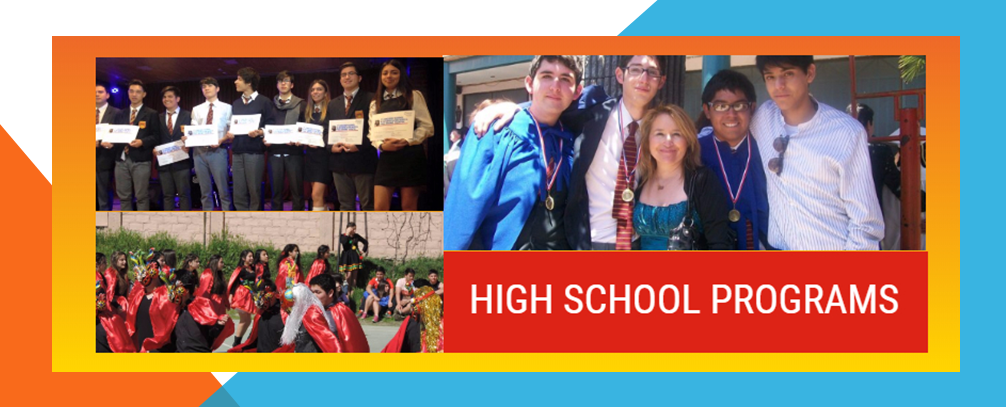 Dear International Students,
GoAbroad-CHILE High Schools offer High School Semester and Year Programs intended for High School international students interested in spending a time abroad in Chile.
Program Length: Semester and Year 
High School Programs Dates:
SCHOOL LIFE
A school day starts at 8am and ends at 4.30pm approx. from Monday to Thursday. On Friday, they usually end at 2pm. Every two periods there is a 10 to 15 recess, but as lunch is considered an important meal in Chile, students are given 45 to 60 minutes after 1pm to have a proper lunch. Most schools have a cafeteria where you can buy meals, or bring your own from home.
Teachers and students have a formal relationship. That doesn't mean that there is tension in the school, on the contrary, teachers are very supportive and have a warm treatment towards the students. You should respect them as they would respect you.
Getting to school is easy and accessible. You can get there by using public transportation or your host family may take you to school. Public transportation is inexpensive.
A year of school consists of two semesters. By the end of the first semester you'll get winter break for 2 weeks. The first semester runs from early March to early July, and the second is from mid-July to early December. Most schools start taking examinations two weeks prior to the end of each semester. It is mandatory for you to do all of them as part of the school system.
You should be able to have a basic understanding of Spanish, because all classes are held in that language. Uniforms are mandatory in both public and private schools. Each school has their own uniform, so none is equal to another.
After school, students can enjoy sports, clubs, extracurricular activities, or Spanish lessons, depending on their language needs.
FAMILY LIFE
The host families provided by our program live in the city, and we will try to fix you with a family that lives near your school. In Chilean culture, families are very united. Extended members of the family tend to live near each other, so they keep in touch most of the time. Chilean people are warm and it is very likely that you are introduced to their extended families as well and ask to do some leisure activities with them. Usually they get together (your host family and their extended family) to do an "asado party" (barbecue). Chileans bond very easily, so you'll probably will become part of their "family". As so, don't forget to be polite and do chores as another member of it.
In Chilean and in Latin American culture meals are an important time usually spent with family. A typical breakfast consists of a combination of buns of bread, cheese, jelly, a glass of milk, tea or coffee. Lunch is considered to be the most important meal of the day. Traditionally Chilean families serve a main dish and they add dessert or soup. After 5 pm most families have "once" which consists of a loaf of bread, cookies or a piece of cake and a glass of tea or any other hot beverage. Between 8 and 9 they serve dinner, which is a light but abundant meal. They might make you choose whether or not to have dinner, but if you see that the whole family is sitting around the table, it would be nice that you join them.
You will always have the chance to meet with new friends outside the house, but you must ask for permission and tell your host family exactly where you are going and with whom you are going out with. Be respectful of the time of arrival that your host family determines. Some host families may speak English, but not all of them. Students should use this opportunity to enjoy and immerse themselves in the Chilean culture and Spanish language.
PROGRAM REQUIREMENTS
It is not necessary to have formal Spanish language experience, but students should have at least a basic level by the time that they arrive and be willing to study Spanish as much as they can.
VISAS
For stays over 90 days, students will need a visa. The process for obtaining a visa to study in Chile may take some time, so it is the parents and student's obligation to ask for the requirements for getting one. You can find out about visas in the nearest Chilean embassy or consulate.
CHILE FAQs
Can students bring their own cell phones?
Yes. It is recommended that students have an unlocked cell phone, so that they can buy a Chilean carrier/SIM card.
About WiFi connection
Most households have WiFi. Schools do have WiFi, but its use is generally restricted.
What is the average money a student may need for daily expenses?
 A student should have at least $200 USD p/m for personal expenses, which include personal hygiene items, long-distance calls, transportation, entertainment, etc. Students must have extra money when starting up school to buy books or other items required. These things are not included in the program fee.
If Students want to travel to other regions of the country by their own, do they need a chaperone?
Our office will provide someone to accompany the student at all times upon request (Note: Not included in the fees of the program), the student may never go to another area without permission from their natural parents, host family, and the agency itself. They will need to fill a form for that matter.
About host families:
The GoAbroad-Chile's Homestay Coordinator is responsible for locating, screening and matching Chilean families with students. Host families go through a careful screening process, which typically involves in-person interviews and home inspections.
What is the proper behavior accepted?
Chilean people greet with a kiss in the cheek to opposite sex. So, don't get alarmed if someone you don't know greet you that way. Same sex kisses in the cheek mostly happen among women, it is not that common in men, though if they are close they may do so. Chilean families appreciate family time a lot. They tend to be very close. Try to spend time with your host family as with your friends. They will let you invite your friends over, but everybody must be willing to obey the family rules.
How do students get to school?
As previously stated (in School Day section), students will take public transportation, which is easy, inexpensive and varied. Public transportation is the main means of transportation in Chile, so there are a lot of buses and shared taxis called "colectivos" that will get you to any destination. Some host families may get the student to his/her school.
Is there an official document from the host school with grades and completed classes after finishing the program?
Yes, students will get official grade reports and documentation from their school. Students must complete all school subjects and approve all of them. Students cannot fail any subject while in the host school, especially those which will give them credits for their home school.
Do schools offer different sports/activities?
Yes, the activities or sports may differ depending on the school the students are placed, but most schools have a lot of sports and a variety of extra-curricular activities. Anyway, there are private as well as public sport clubs or cultural activities which the students may attend after school. If students want to attend a private club, they have to pay for it, because it is not included in the program.
May students get a tutor if needed?
If a student wants or needs a tutor, it is possible to guide him/her to get one. The agency may also provide one, but this tutoring is in addition to the program fee. Tutors are paid an average of $25 USD.
Do the Program include Volunteer Activities?
Yes, the student can participate in different Volunteer Activities such as Animal rescue, disability assistance, working with elderly people, etc.
 APPLICATION PROCESS
There are many advantages when experiencing life outside your home country. The only thing you'll need is to be eager to live new experiences, know a different country and a completely different culture. You'll be away from family and friends. Your lifestyle may vary, but is it worthwhile? It's all up to you! You'll need to spread your way of seeing the world. You'll be having new "wings" to fly into a new and safe adventure. We encourage you to pursue a new language and a new culture. By the end of your experience, you'll notice that the young man/woman who left America is not the same that is coming back.
Check in with your School
Only your school decides which credits you can receive by taking our program. Hence, it is your responsibility to get informed about which credits you will need and the ones the Chilean school is offering you. You must approach your guidance counselor to determine what subjects are eligible and which ones may be optional while being in Chile.  Anyways, in the Chilean School you must attend to each and every class.
Program Information and Paperwork
Ask for an Application Form. Carefully review all of this information with your parents and contact us if you have any questions.
Skype Interview
This is when you get to meet us and talk face to (virtual) face. During the interview, the Program Coordinator will assess your suitability for our program. This call lasts 30-60 minutes. Parents will speak with us at the end of the call, but the first part of the interview questions must be answered by the student alone. You will not need a special preparation for this interview. You only have to speak about yourself and why you feel you are ready to travel and study abroad.
Program Acceptance Information
Letter of Acceptance 
Host Family Placement
This part may take some time, because once you are accepted in our program, we have to make quality placement with your host family. Please, be patient! We will be working hard to give you the best experience.  We recommend that you write to your host family as soon as possible to introduce yourself, and let them know how you feel about this new experience
Flight Itinerary
Students need to submit flight information details to us prior to their departure. These details include: flight dates, times, carrier, arrival and all stops in between flights. This information is vital to us so that we can arrange airport pick up.