GoAbroad-CHILE forms part of the MARGA MARGA UNDERTAKES Project, a joint endeavor developed in conjunction with public and private institutions with the aim of increasing inter/national visibility to Marga Marga County, Valparaiso region.
Programs for INTERNATIONAL and LOCAL Participants
INTERNATIONAL PARTICIPANTS / STUDY ABROAD – UNIVERSIDAD DE ACONCAGUA 
International participants interested in attending a Semester or Year Abroad at UAC will have the opportunity to study alongside Chilean students and professionals at Universidad de Aconcagua. The university provides an opportunity to promote personal and social opportunities for students and adult learners at local, regional, and national levels. The university offers professional programs in the areas of Health, Engineering, and Social Sciences.
---
INTERNATIONAL PARTICIPANTS / STUDY ABROAD – HIGH SCHOOL PROGRAMS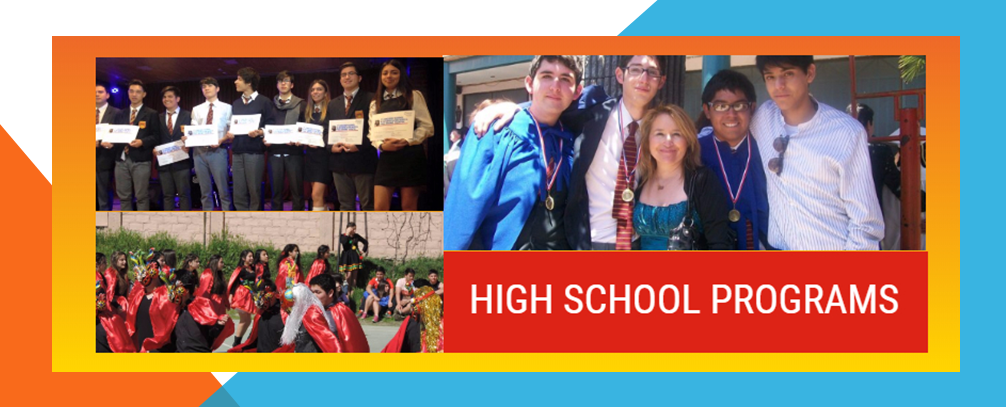 Our High School Programs are intended for k-12 students from all over the world interested in making an impact in Marga Marga County. Upon arriving in Chile students will participate in a series of workshops focusing on culture, language, academics, social norms, and current events, all designed to prepare them for their  experience in Chile.
---
Short Term High School Programs
---
---
INTERNATIONAL PARTICIPANTS / EXPERIENTIAL LEARNING PROGRAMS – ELP
As members of the MARGA MARGA UNDERTAKES project we are able to provide international participants with safe, outstanding and nurturing Experiential Learning Opportunities – ELP while they are in Chile. Therefore, for international participants interested in making an impact through Experiential Learning Programs: Volunteerism, Community Service, Internship, Field Education, and Service Learning Programs, GoAbroad-CHILE organizes a wide and diversified range of experiential learning opportunities to develop and grow in the Marga Marga county. Participants will have various options such as K-12 schools, non profit and governmental organizations, to mention some. In case international participants need to improve their Spanish language skills, they can also participate in our Intensive Spanish and Chilean Culture Programs.
---
INTERNATIONAL PARTICIPANTS / LANGUAGE AND CHILEAN CULTURE PROGRAMS
The teachers of our Center for Foreign Languages all have degrees in languages and are dedicated to providing outstanding language instruction to each and every one of our students. We are 100% committed to helping students reach their goals in learning Spanish and having an unforgettable experience at Marga Marga County, Valparaiso Region.
---
INTERNATIONAL PARTICIPANTS / HOMESTAY ABROAD PROGRAM – CHILE
This program gives you a unique opportunity to immerse yourself in Chile and learn about our culture through direct contact with our people. In return, you teach them about your country and culture. The accommodation is with families, or single persons. The length of this program is one to four weeks, and meals are included. Generally speaking the Homestay Abroad Program is offered as a cultural experience, where the participant lives in a family setting in the community.
---
CHILEAN / LOCAL  PARTICIPANTS 
INTERNACIONALIZA TU CURRICULUM
STUDY ABROAD: Programas Semestrales y Anuales en Universidades extranjeras
---
ENGLISH PROGRAMS ABROAD: Programas de Inglés y Cultura Americana en instituciones de educación superior dirigidos a estudiantes y profesionales que deseen aprender y perfeccionar el idioma Inglés así como conocer la cultura anglosajona.
---
HIGH SCHOOL PROGRAMS ABROAD – HSPA: Programas académicos de inmersión cultural en Colegios de Estados Unidos, Canada y Nueva Zelanda.
---
WORK EXPERIENCE AUSTRALIA:
El Programa Work Experience Australia está diseñado para brindar oportunidades a los postulantes para trabajar y explorar Australia.
Más información en Work Experience Australia
---